Keep in mind...
Hyperlinking text in an activity description is a useful way to direct students to important information related to completing that activity. You may hyperlink specific text within the description or simply include the link in its url version.
Below are instructions on how to hyperlink specific text:
1. Go to the Activities tab on the left-side toolbar and find the activity that you would like to add a hyperlink to, then click Edit.

2. Put the text you would like to hyperlink in square brackets [example text] and the associated web link in rounded parenthesis (make sure to include the https://) directly following the last square bracket, without any spaces. Thus, the hyperlink template in full looks like the following:
[example text](https://exampleweblink.com)

3. Then click Save Edit once finished.

If you do not wish to hyperlink specific text, you can always just paste your web link directly into the description and it will automatically hyperlink once you save the activity.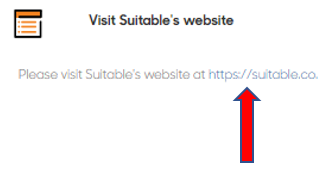 Other reminders!
If there is anything you are unsure about, or simply have questions about something, feel free to chat with us below or send us an email at support@suitable.co - we are happy to answer any questions you may have!