Keep in mind...
Reflections are a terrific way for students to affirm what they learned as a result of their participation and completion of a particular experience. They help students think through the value of their participation and practice articulating it in the same context. After a reflection is filled out, it is included on the student's scorecard. Reflections also provide admins and advisors qualitative feedback on what the students are learning via their programming.  
Below are instructions on how to add portfolio submission requirements:
1. First, go to the "Activities" tab on the left-side toolbar and find the "Task" that you would like to add a reflection requirement to, then click "Edit".
2. Then, click "Advanced Edit" and navigate to the "Detail" section of the wizard. This is where you can add a reflection requirement. All you have to do is turn reflections to "Yes".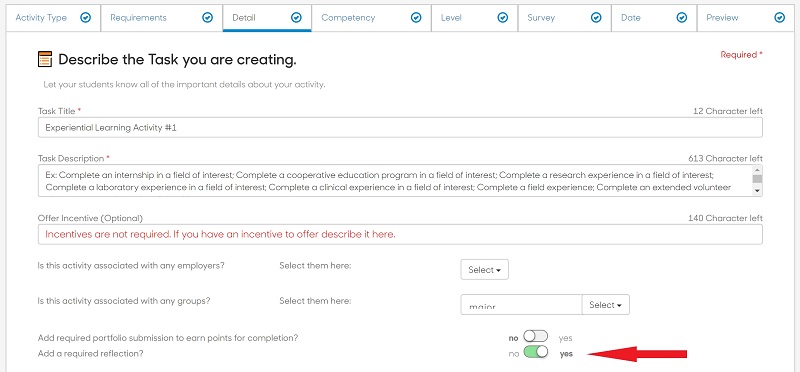 Other reminders!
Do not add reflections to container activities. Reflections should only be applied to the last set of nested activities.
For example, if there is a requirement to "Complete 3 experiential learning activities", a reflection could be required for each of the 3 individual activities ('Experiential Learning Activity #1, #2, #3), but must not be applied to the "Complete 3 experiential learning activities" requirement activity container.