Keep in mind...
Reflections are a terrific way for students to affirm what they learned as a result of their participation and completion of a particular experience. They help students think through the value of their participation and practice articulating it in the same context. After a reflection is filled out, it is included on the student's scorecard. Reflections also provide admins and advisors qualitative feedback on what the students are learning via their programming.
Below are instructions on how to add a reflection requirement:
1. First, go to the Activities tab on the left-side toolbar and find the Task that you would like to add a reflection requirement to, then click Edit. Alternatively, you can create a new Task if you need to.

2. Then, click Advanced Edit and navigate to the Validation section of the wizard. This is where you can add a reflection requirement. All you have to do is turn reflections to Yes. If you would like to review a reflection before credit is awarded, also turn the approval required toggle to Yes. Once you have made the desired changes, you can navigate to the Preview tab and save your changes.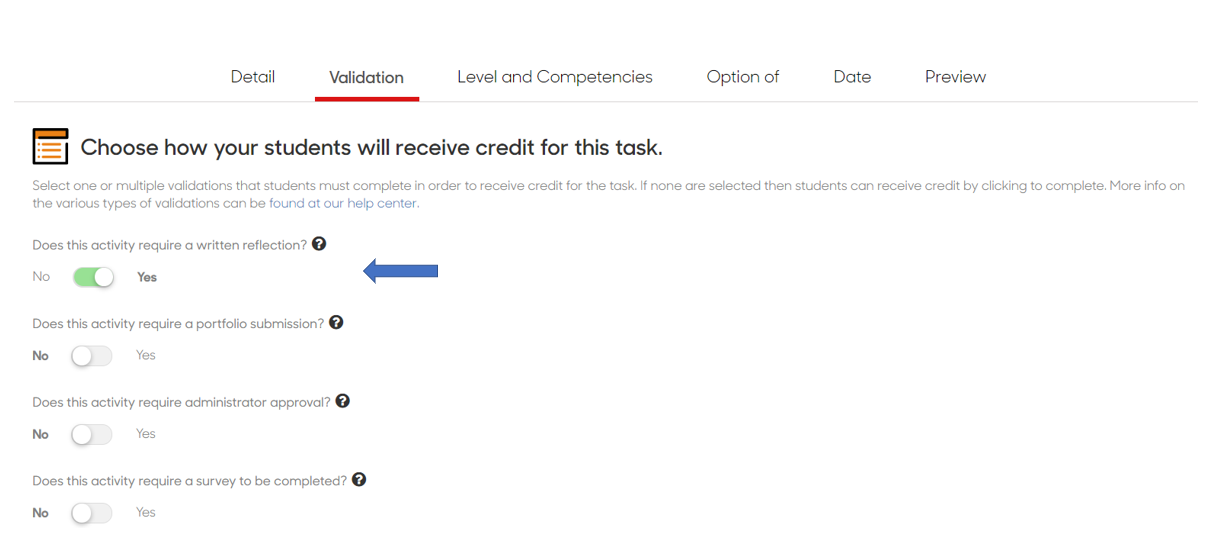 Other reminders!
If there is anything you are unsure about, or simply have questions about something, feel free to chat with us below or send us an email at support@suitable.co - we are happy to answer any questions you may have!