Keep in mind...
Portfolio submission requirements are healthy to sprinkle in throughout your programming because it ensures that students collect relevant artifacts that can help them tell a unique story about their education. We recommend keeping portfolio submissions to a healthy moderation, too many portfolio submissions has diminishing returns on the value and effectiveness of an eportfolio. A select number of featured submissions should be enough to illustrate a student's work style. Further, students could disengage when having to upload portfolio items at every turn.
Below are instructions on how to add portfolio submission requirements:
1. First, go to the "Activities" tab on the left-side toolbar and find the "Task" that you would like to add a portfolio submission requirement to, then click "Edit".
2. Then, click "Advanced Edit" and navigate to the "Detail" section of the wizard. This is where you can add a portfolio requirement. All you have to do is turn portfolio submissions to "Yes".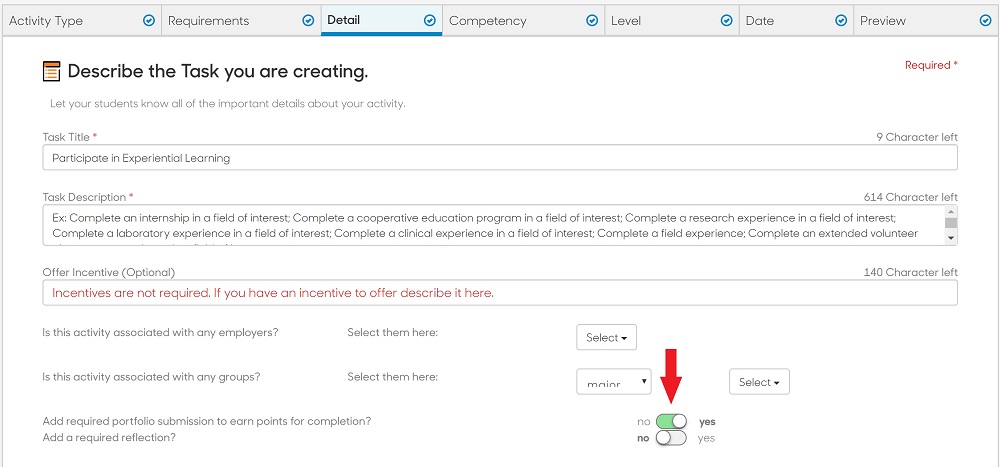 Other reminders!
Do not add portfolio requirements to container activities. Portfolio requirements should only be applied in the last set of nested activities.
For example, if there is a requirement to "Complete 3 experiential learning activities", a portfolio submission could be required for each of the 3 individual activities ('Experiential Learning Activity #1, #2, #3), but must not be applied to the "Complete 3 experiential learning acitivites" container.