Keep in mind...
While you can remove/uncomplete activities from your Scorecard through both the mobile app and web app, we strongly recommend that you use the web app as it has a bigger screen. Activities that have requirements attached to them ("Experience Set Activities") are not able to be removed until any and all of the completed requirements attached to it are removed first.
Below is information on how to remove activities from your scorecard:
1. First, go to the Activities tab on the left-side toolbar and navigate to the section titled Completed.

2. Then, for each activity that you would like to remove, click the green check mark beside it.

3. Once you do this, a pop-up will appear to confirm that you are sure about removing the activity. If you're sure, click Ok.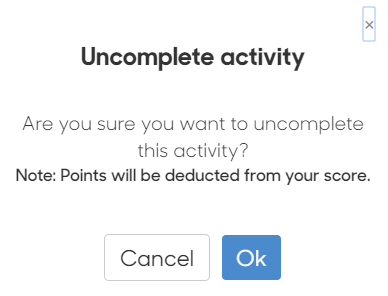 If you wish to remove an Experience Set Activity please refer to our article on Removing Experience Set Activities for more information on how to do this.
Other reminders!
If there is anything you are unsure about, or simply have questions about something, feel free to chat with us below or send us an email at support@suitable.co - we are happy to answer any questions you may have!