Keep in mind...
Experience Set Activities require a subset of activities to be satisfied in order for completion. For example, say there is a "Global Workshop Series" this semester and you need to attend 3 different Global Workshops throughout the semester in order to get points for that activity. The "Global Workshop Series" would be considered the Experience Set Activity, and each individual Global Workshop would be considered a sub-activity that needs to be satisfied.
Below is an example of how to remove an Experience Set Activity:
1. Go to the Completed section of the Activities tab and find the Experience Set Activity that you wish to remove. Once there, click View Requirements below the activity.

2. Once you are viewing the requirements of that Experience Set Activity, go through and remove any of the sub-activities that don't belong. You can remove the sub-activity by clicking the green check mark beside it. This will bring you to a screen showing only that activity. You will click the green check mark again.

3. As you remove the first sub-activity, a message will appear asking if you are sure about uncompleting the activity. If you are sure, press Ok. Then, another message will appear informing you that you will lose progress on the Experience Set Activity's requirements. This will effectively remove the Experience Set Activity from your Scorecard. If you are sure you'd like to do so, press Yes, I'm sure.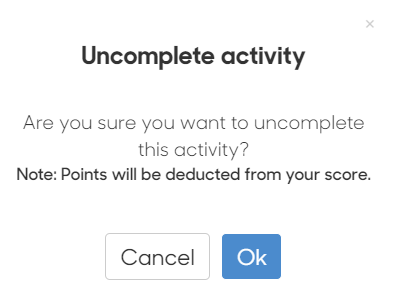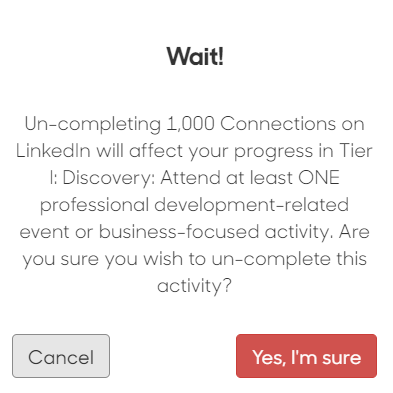 To learn more about Experience Set Activities, please refer to our article about Experience Set Activities.
Other reminders!
If there is anything you are unsure about, or simply have questions about something, feel free to chat with us below or send us an email at support@suitable.co - we are happy to answer any questions you may have!