Keep in mind...
Being factored into the leaderboard is a decision totally up to you. You can opt-in and opt-out at any time. If you opt-out, your scorecard will not show up in any view of the leaderboard - both student and group.
Below are instructions on how to opt-out of the leaderboard:
1. First, go to the "Settings" tab on the left-side toolbar and navigate to the "Scorecard information" section.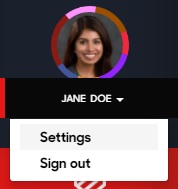 2. Once there, you can opt-out or opt-in by answering the leaderboard question with the yes/no toggle.
No = opt-out (grey)

Yes = opt-in (green)

3. Then scroll towards the bottom and click "Save Changes" once finished.

Other reminders!
The "Scorecard information" section of Settings has other important pieces of information that is important to keep updated. To learn more, please refer to our article on "Account Settings".