Keep in mind...
You can easily download your students' submissions.
How to download task submissions:
1. Navigate to the Activities tab on the left-side toolbar and find the activity. Click the three dots on the right of the activity card and choose 'Download Portfolio Submissions.'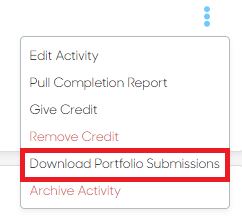 2. A green header will pop up indicating a successful request.
If there are no portfolio documents available, a yellow header will pop up confirming.

3. Check your email. Be sure to check your SPAM folder!
4. Use the link to open the zipped file.