Keep in mind...
If you attend an event and forget to scan the QR code, in many cases your university will provide a way for you to go back and self-report your attendance.
For example, if you are trying to complete the requirement "Attend 8 global and cultural events", for any events that you miss scanning the QR code at, then all you have to is complete one of the "Other global and cultural event" reflection options under that requirement.
In order to complete one of these, simply submit a reflection about the event you attended.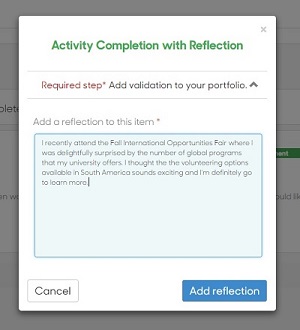 You can submit reflections via the web or the mobile app.
Other reminders!
These self-report options are also applicable for other experiences that you have and would like to receive credit for. In the example above, if you do any personal traveling or have any meaningful cultural experiences on your own, you would be able to self-report that for one of the "Other global and cultural events" self-report options above.
If there is anything you are unsure about, or simply have questions about something, feel free to reach out to us via chat or email at support@suitable.co.