Keep in mind...
We recognize the search bar needs some improvements, in the meantime, see below on how it works.
You can find students and their profiles through the "Student Management" tab of your "Settings". The students are ordered alphabetically by last name. NOTE: the search bar only scans the page that you are viewing. This means that if you viewing page 1, but searching for a student with a last name that starts with a "Z", then it's likely that no results will appear until you get to the correct page. Below are a few reminders about how the search bar works:
Students are listed in alphabetical order, by last name.
The search bar only scans the page you are viewing for matches.
The search only queries the page based off the first word you enter.
If you enter a first and last name, no results will appear even if that student is actually on the page.
Below are is an illustration of how the search works:
1. First, go to the "Settings" and then navigate to "Student Management". In this example, I am searching for the student "Jane Doe".
2. You'll notice, that I'm viewing "Page 2". If I was viewing "Page 1" no results would be found and the search window would be blank.
3. Further, I am only searching for "Doe", not "Jane Doe". If I type in both words, then the results will come back empty.
4. Once found, to view their profile, click their email address.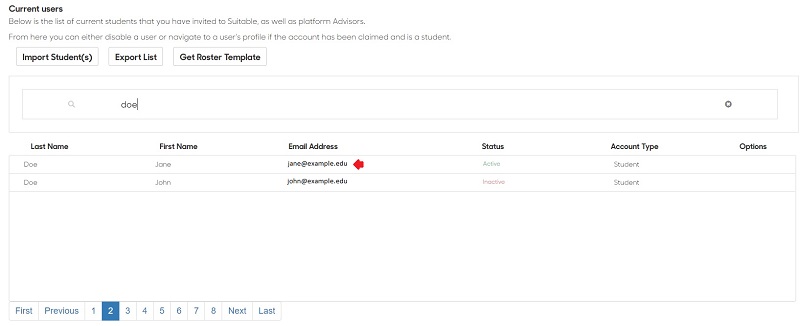 Other reminders!
Please bear with us as we work to improve this feature. If you experience any difficulty or get stuck, please start a chat or email us at support@suitable.co right away.