Students are able to change/update their account settings on their own, via the Settings tab in their portal. In the case where you would like to update the information for a student (i.e. undergraduate vs graduate), you can do so through the Student Management tab within Settings.
Below is an example of how to update account information for a student:
In this example, I would like to change Jane Doe's information to reflect that she is a graduate student.
1. Go to the Settings tab, and then navigate to Student Management.
2. Click Get Roster Template and open the Excel file.
3. Then type the student's Email, First name, and Last name in columns A, B and C (do not overwrite the Header Row).
4. Now type any account information you want to update into the appropriate column(s). In this example, we are going to type Graduate in the Column titled Class standing.
5. Once finished, save the document and upload it back into the Student Management tab by clicking Select a file, attaching the correct roster, then clicking Import Student(s). This import will overwrite any existing value that Jane may have in Class Standing.
6. You will know that the update was successful when you receive a confirmation email.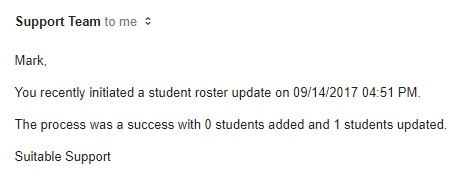 Other reminders!
If there is anything you are unsure about, or simply have questions about something, feel free to chat with us below or send us an email at support@suitable.co - we are happy to answer any questions you may have!