Keep in mind...
Do you need to submit a link of a website for completion of an activity? Suitable has made it easy for you to do so.
Below are instructions on how to submit links when completing a submission:
1. When completing an activity that requires a link submission, under the Choose File button you will see the following: Do you want to upload a link to a website? Click here. By clicking that, the submission form will adapt to enable a link.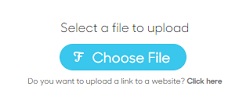 2. Remember to include the https:// or the http:// otherwise you will receive an error message until it is included.

3. Then, provide a description of the submission and click Add to my portfolio.
Other reminders!
If there is anything you are unsure about, or simply have questions about something, feel free to chat with us below or send us an email at support@suitable.co - we are happy to answer any questions you may have!