Keep in mind...
Some achievements may not be open to all students (e.g. First-Year Experience). Do you have an achievement you would like to create for first-years only? Is there an achievement that should only be available to a small cohort of students? We've got you covered!
Selecting a Segmentation
In the achievement creation wizard, you will be able to select a special segment in the Students tab - this means that a select list of students will have access to the badge. As you create the badge, you will be prompted by the following question: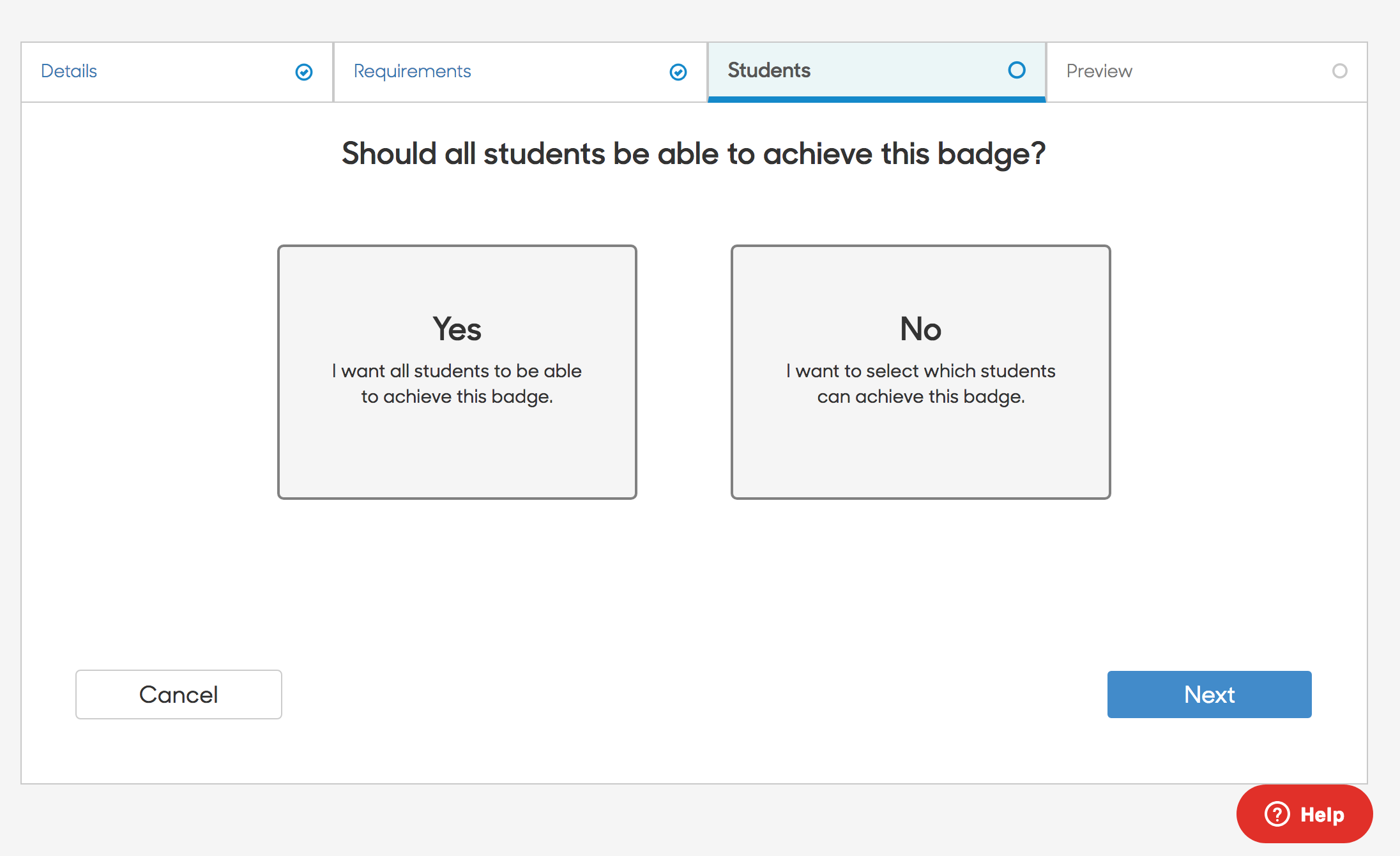 Selecting Yes will allow the achievement to be viewed, tracked, and achieved by all students. However, if there is a special segment of students you'd like to offer the achievement to, selecting No will allow you to upload a specific list of students. Your achievements can be segmented by class standing (e.g. First-year, Sophomore, etc.).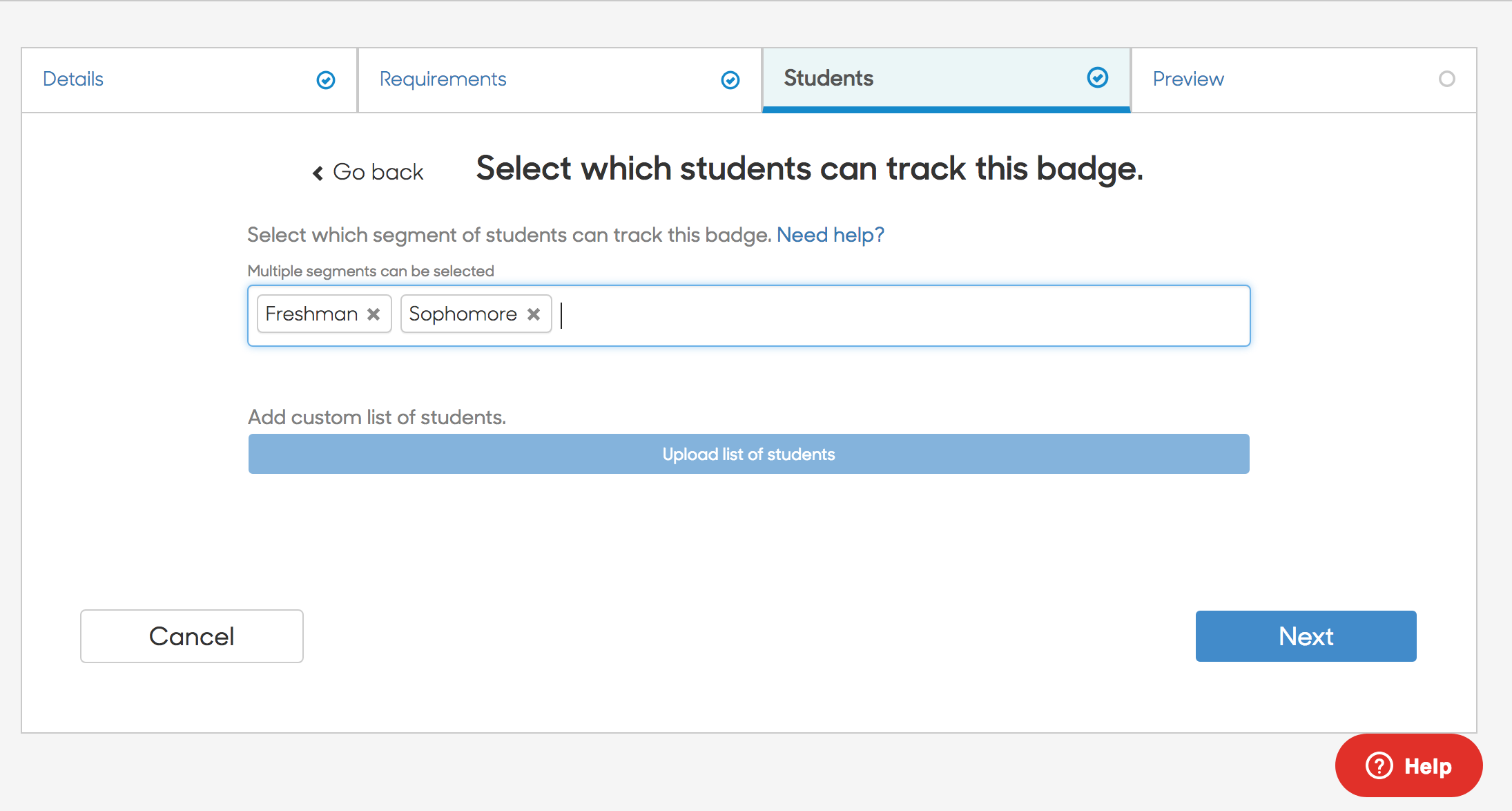 Some notes on selecting a segment:
Multiple class standings can be selected.
If you reach the "Select students" page viewed above, Go back will allow you to return to the original question and select all students.
Uploading a Custom List
We understand that not all of your program's achievements are defined by class standing. To create an achievement that should only be available to a specific list of students, you can upload an Excel file of students. The achievement will be visible only to the students in the file you upload. Click

, then Download Template and upload the completed file.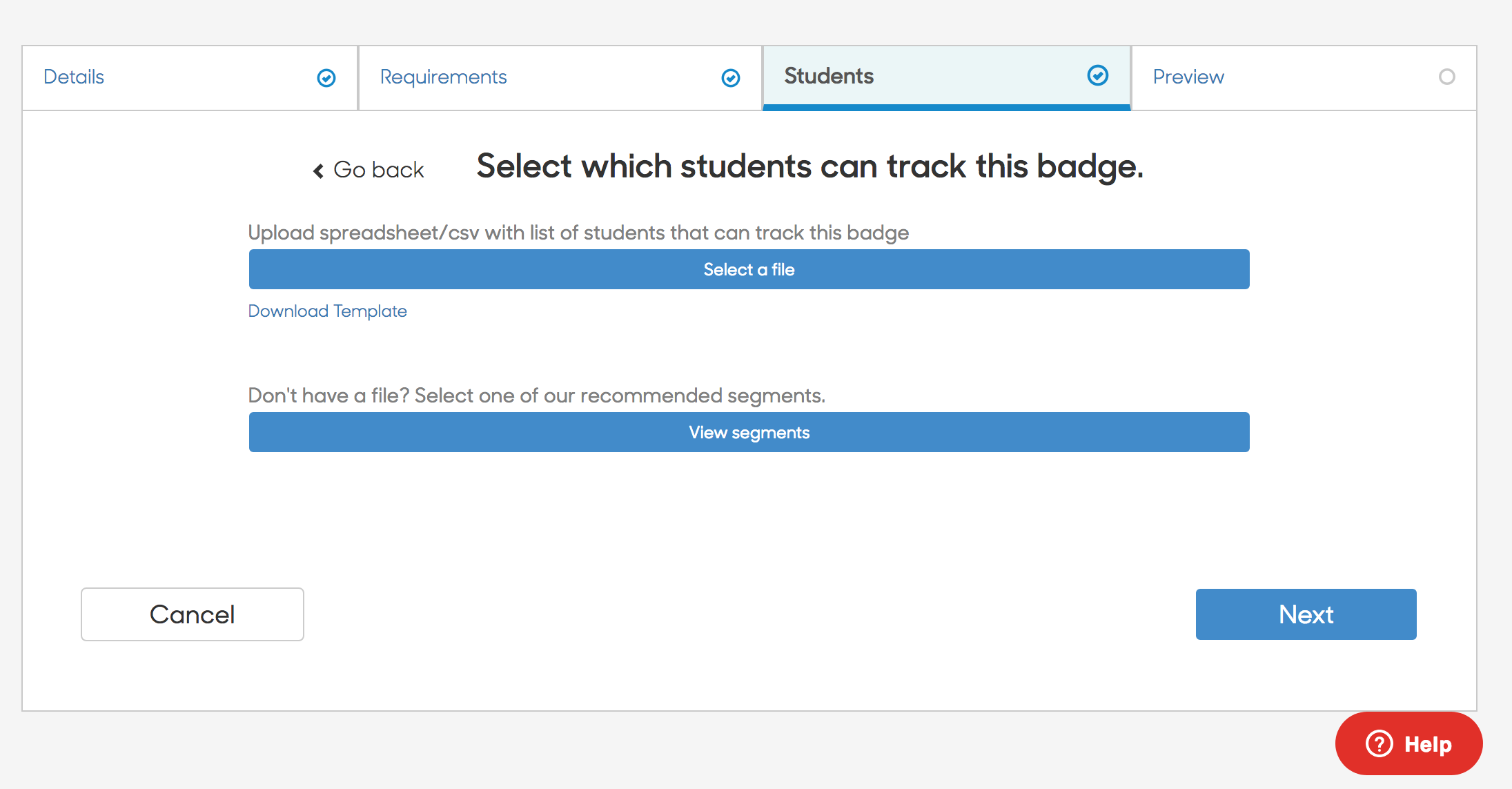 Some notes on uploading a custom list of students:
The file must be in spreadsheet/CSV format.
File should contain one column with a header row and a list of the students' email addresses.
There is a template available for download to help with proper formatting - click Download Template as pictured above.
Rules of Segmented Achievements:
When creating an achievement, you can either select predefined segments or upload a custom list of students. If you need to do both, there are two steps to complete this:

Create the achievement with the desired class standing segmentation.
Find this new achievement in your Achievements tab.
Click the Edit button on the achievement to return to the achievement wizard. From there, you can upload a custom file to add more students while still keeping your original selected segmentation.

When editing an achievement's segmentation, you can only perform one segment update at a time. If you need to update the selected class standings and upload a file, you must do each operation separately.
You can update the students who have access to an achievement at any time by editing the achievement.
Existing and future students that belong to a selected class standing will have access to the achievement.
Once a student has access to an achievement, you cannot remove the achievement from them. If you need help with this, please reach out to support@suitable.co and we will be happy to assist!