Keep in mind...
Experience Set IDs are only relevant when inputting activities in the Curriculum Import Excel file. Further, it is optional to put in an Experience Set ID in the Curriculum Import - you would only put in an ID if you want a Task or Event to be added into an Experience Set as an option*.
* Please note that putting an Experience Set ID in the Curriculum Import will add the associated Task or Event as an option only, not as a requirement. In order to add a Task or Event as a requirement to an Experience Set, you will need to edit the Experience Set directly on the Web.
Below are instructions on how to find and add an Experience Set ID to the Curriculum Import:
Once you have all of your activity information in the Curriculum Import Excel file, you can optionally add in Experience Set IDs in the last column titled 'Option of (IDs)'.
In order to retrieve the Experience Set ID, you will click on the Experience Set in your web app and click Edit

Once here, you will see a menu of buttons toward the bottom, left corner of the Experience Set's edit window. Select Advanced Edit

From here, you will look at the URL in the search bar. The Experience Set ID is the set of numbers at the end of the link. This is the number you will input in the Curriculum Import Excel file
You can also find the Experience Set ID within your Curriculum Export file in the ID column.
If you want to associate a Task or Event with multiple Experience Sets, simply list the multiple IDs separated by commas, such as the example below: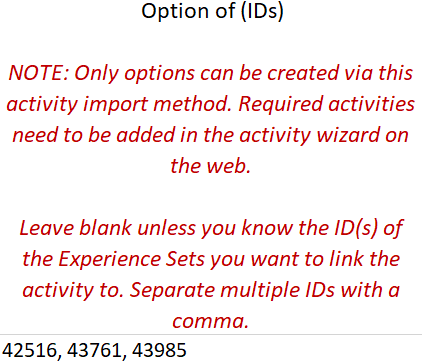 Other reminders!
If there is anything you are unsure about, or simply have questions about something, feel free to chat with us below or send us an email at support@suitable.co - we are happy to answer any questions you may have!