Keep in mind...
If your institution has a Pathways Pro subscription, you can share activities with other pathways at your school. As an admin, you can now add activities to the shared catalog when adding new activities to your program. When an activity is added to the catalog it becomes visible to admins of other pathways at your institution and can be adopted into their respective programs. The following sections outline how you can share activities with other pathways as well as adopt activities into your own pathway.
Sharing an activity with other pathways:
Sharing your activities with other pathways can be done during the creation of a new activity in the activity wizard. Start by creating your activity as normal; in the preview tab, you will notice a toggle slider below the activity preview. Having this slider set to Yes will automatically share your new activity with the catalog and allow admins of other pathways to adopt your activity into their pathway. Having the slider set to No will keep the activity confined to your pathway and will not be shared to the catalog for other pathway admins to adopt.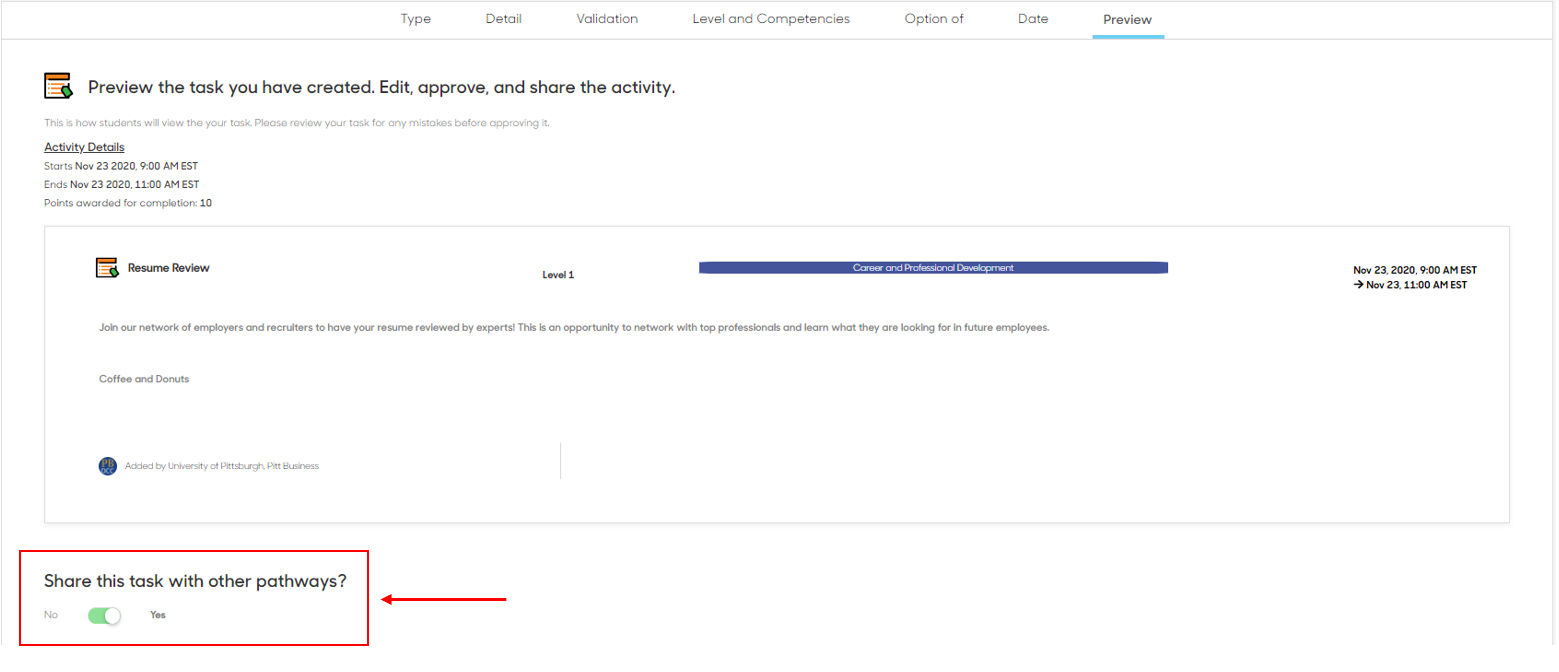 Adopting an activity from the catalog:
Within the activities tab, you will notice a Digest button in the top right corner below the Create a new activity button. Clicking on this will expand the catalog digest view. This view allows you to search and filter the shared catalog for activities you may be interested in adopting and adding to your pathway.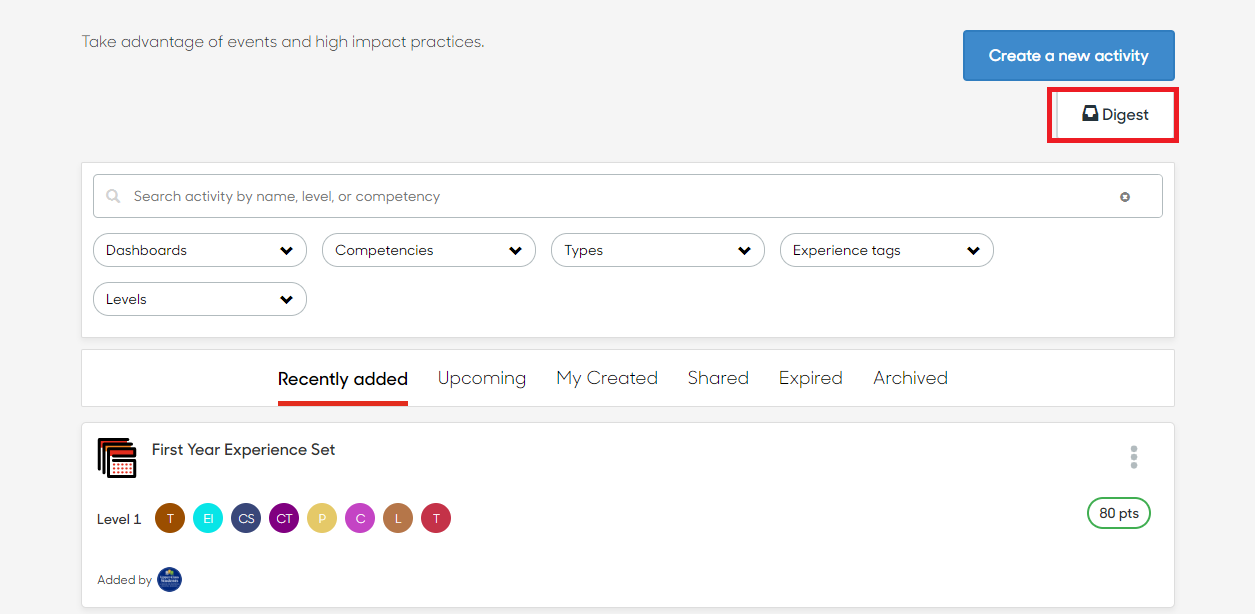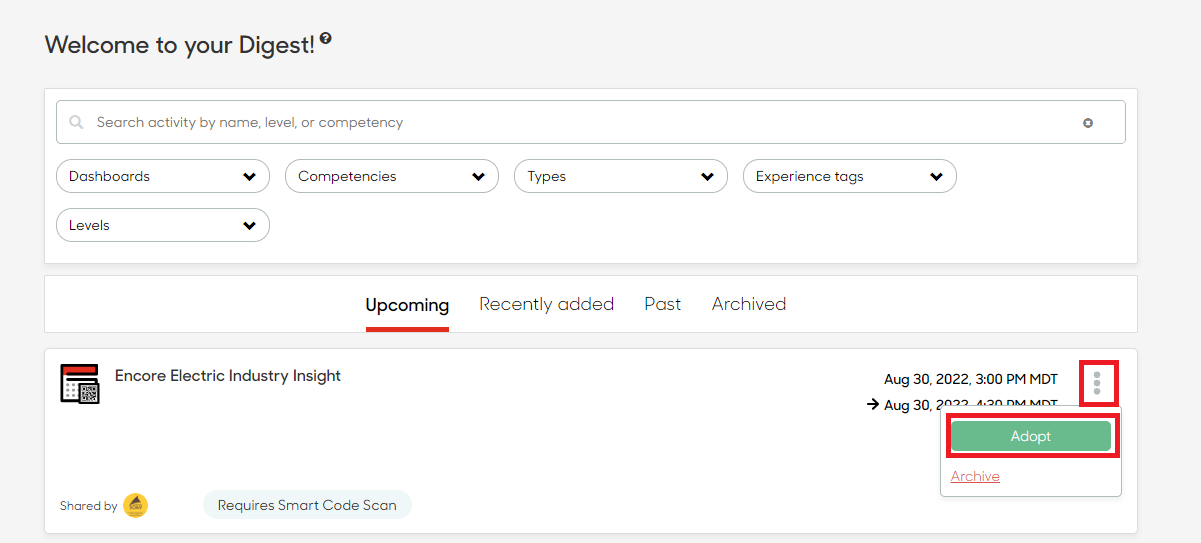 If you expand the activity card and click Adopt Activity, you will be navigated to the activity wizard to review the selected activity and assign pathway-specific details. You can assign your level and competencies and add the activity as an option of an experience set. Once you reach the preview tab and save, the activity will belong to your pathway.
If you expand the activity card and select Archive, the activity will be removed from your digest and placed in the Archived tab. This can be a useful tool to mark activities that are not relevant to your pathway and keep your catalog digest streamlined and up-to-date with activities that may add value to your pathway. Archived activities can be adopted if you change your mind.
Information to consider:
Students who complete an activity that's shared across multiple pathways will receive points in each pathway.
Levels and competencies are assigned to an activity during the adopt phase, so even though you are adopting an activity from another pathway, you will ultimately have control over how many points are awarded within your pathway upon completion.
When a pathway has access to the shared catalog, the curriculum import will share activities to the catalog by default.
You can give credit to students for adopted activities, but keep in mind that awarding credit to a shared activity will mark the activity as complete for the student across all pathways the activity is shared with.
Only admins of the originating pathway can edit activity details such as title, description, date, etc. If you adopt an activity, the only fields you can edit are pathway-specific details such as level, competencies, and assigning the activity as an option to an experience set within your pathway.