Batching credit means awarding credit in bulk. You can manually award credit to students for any activity you created.
How to award credit:
1. Select Activities on the left-side toolbar.
2. You will automatically be routed to the Recently Added tab within Activities. Select the My Created tab to find all activities you added to the Catalog.
3. Find the activity and expand it by pressing the caret in the top right corner.
4. Once the box expands, select Edit. At the bottom of the box, click the green Give Credit button.
5. From here, you can give credit to individual students or a larger number of students at once.
6. To give credit to individual students, you can use the search bar to locate them. Select the student(s) that deserve credit and click Give Credit.
How to award credit to a large group of students:
You can also import a file (e.g. an attendance file) with a list of students who completed the Task or attended the Event. Don't worry about filtering your data to remove students who are not in your program as the system will skip over their email addresses and only award credit to students who have access to that activity. Students who already have credit will not receive double credit.
1. Click Import.
2. You can either download the template provided or upload your own roster list with all columns removed except for student email addresses (*must be saved as a CSV file).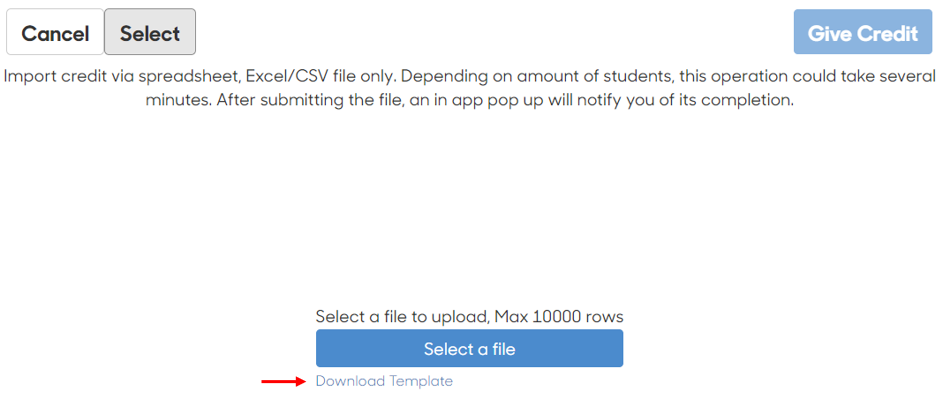 3. If you choose to use the template, you will only need to add student email addresses in column A, then upload this file into the system.

4. Once uploaded, click Give Credit. A message will pop-up to confirm the number of students you awarded credit to.
If you receive a prompt that confirms your upload was unsuccessful, it will inform you where the issues occur. You can then update and re-submit the file.
Once uploaded, you can run a completion report to review all students who earned credit. The activity will be added to the student's Completed Activities tab.