Keep in mind...
Creating a custom mobile push notification and sending it out to your selected group of students drives engagement and meets your students where they are. Use Suitable's mobile push notification capabilities to easily and quickly communicate opportunities that may interest your students, time-sensitive announcements, or alerts based on their progress. Only permissioned administrators have access to send Push Notifications.
To create and send a mobile push notification:
1. From the dashboard, navigate to the Notifications icon in the left sidebar.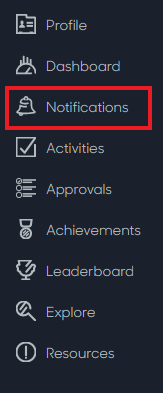 2. At the top, choose Create and Schedule.

3. Choose the type of notification you would like to send.
There are 4 notification options: News & Nudges, Linked Announcement, Experience Set Recommendation, and Achievement Recommendation. You can learn more about each push notification type here.
4. Fill out the requested information, based on your notification type.
5. Choose if you would like to have this message sent now, or in the future.

Note: If you choose to have the notification sent immediately, you will not be able to make any edits after clicking "Send It." We recommend that you schedule the notification for 5 minutes in the future in case any changes need to be made.
6. Send to all students or create a specific Distribution List - decide if you would like to have the notification sent to all students, or only a select group of students. If you would like to have the notification sent to only a select group of students, you will need to have a distribution list uploaded to Suitable. You can learn more about creating distribution lists here.
7. Click "Send It," and you're done!
Learn more about viewing your upcoming or past mobile push notifications here. If needed, you can also edit a scheduled push notification here.
If you have additional questions, chat with us below or send us an email at support@suitable.co.