Keep in mind...
If you chose to send a mobile push notification immediately, you cannot edit it. We recommend scheduling a mobile push notification for five minutes in the future, in case any edits need to be made.
Watch a video on editing scheduled mobile push notifications here:
To edit the content of the mobile push notification:
1. Click the Notifications icon in the left sidebar, then choose Upcoming at the top. Here, you will see all of your scheduled notifications.
2. To the right of the notification, you will see three dots. Click on those dots, then choose Edit Notification.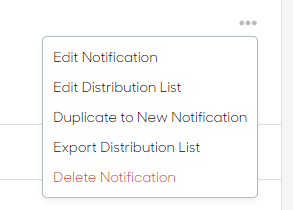 If you are intending to delete the notification: select

Delete Notification

instead.
3. Edit the information that needs to be changed, then select Save Changes at the bottom.
Find more information here on how to edit a distribution list after a mobile push notification has been scheduled.
If you have additional questions, chat with us below or send us an email at support@suitable.co.