Keep in mind...
Any changes that you make to the requirements of a badge while students are in progress towards the badge will affect their ability to complete it. We recommend only editing the requirements during times when students are not engaging.
Navigate to the Achievements tab on the left-side toolbar.
Locate the badge that you would like to edit and click on the three-dot ellipses on the badge card. Choose 'Edit achievement'.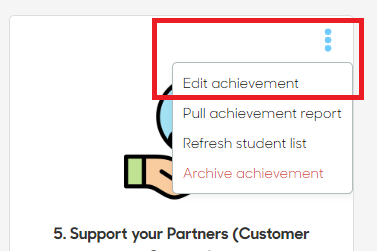 You will receive a message, warning you about the effects of editing the requirements of your badge. Click 'I Understand. Go to Edit'.
Navigate to the tab where you need to make edits.

There are 3 tabs available where you can make edits: Details, Requirements, or Student List.

After making the appropriate edits, navigate to the Preview tab and click 'Save'. You're all done!
If you have additional questions, chat with us below or send us an email at support@suitable.co.