Keep in mind...
It is important to keep your account up to date. Items like profile picture, graduation date, and personal description/objectives can be updated in the School Information tab. Having outdated information can negatively affect the incentives you are eligible for, how employers search for your profile, and how you are represented on the the Leaderboard.
You can find this information in the Settings tab, located on the drop down menu underneath your name towards the bottom left-hand corner of the screen. Please note that this is only accessible on the web.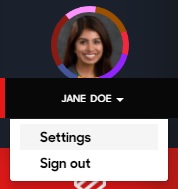 Other reminders!
If there is anything you are unsure about, or simply have questions about something, feel free to chat with us below or send us an email at support@suitable.co - we are happy to answer any questions you may have!