Keep in mind…
To begin the process, please contact your representative from Suitable's University Success Team if you would like to add Student Organizations to your subscription.
You will need to have institutional organization administrator access to add a new student organization.
You will need to have experience tags for each of your student organizations already built. View this article for information on how to build these tags, or reach out to your University Success representative for assistance.
To Link Upcoming Events to a Student Organization:
1. In your dashboard, navigate to the Activities tab on the left sidebar, then change your activity view to 'Upcoming.' In the filter options below the search bar, select 'Experience tags,' and either search for or choose the student organization that you'd like to create an activity view for.

2. Copy the URL at the top of your web browser.
3. Click on your program's logo in the top left corner of Suitable and choose your program's institutional organization.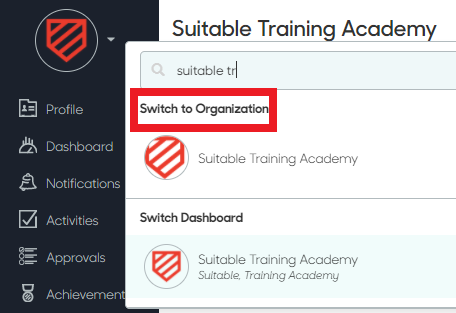 4. Choose the organization that you would like to add a link for, then choose 'Edit Organization.'
5. Choose 'Add New Content Section,' and create a new section that houses the activity link. Using the link markdown functionality in the section creation wizard, you can link the activity list to a set of words, such as 'Upcoming Events.'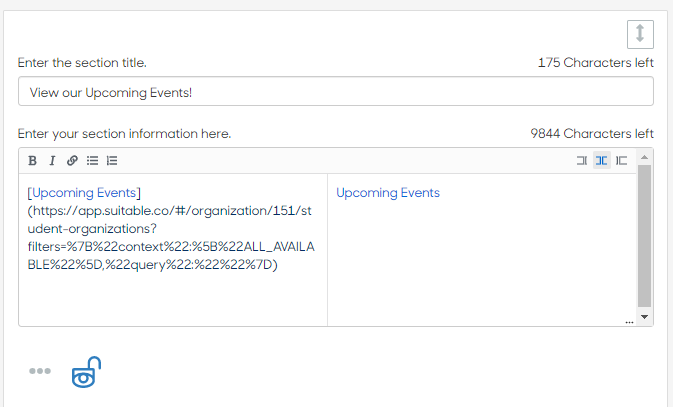 6. Choose 'Save Organization' at the bottom, then return to your dashboard to view the Organizations tab and review the student organization.
If you have additional questions, chat with us below or send us an email at support@suitable.co.