Keep in mind...
We accept all major file types; video, word docs, excel spreadsheets, PDFs, powerpoint slideshows, pictures, etc. 
Below is information on adding and managing portfolio submissions:
1. To complete an activity that requires a portfolio submission, log into the web app and go to the "Activities" tab on the left-side toolbar to find the activity that you would to complete.

2. Now, try completing the activity. A box will appear, allowing you to attach the submission. Once you attach the file, make sure to wait until the preview updates from the orange briefcase. Once finished, click "Add to my portfolio".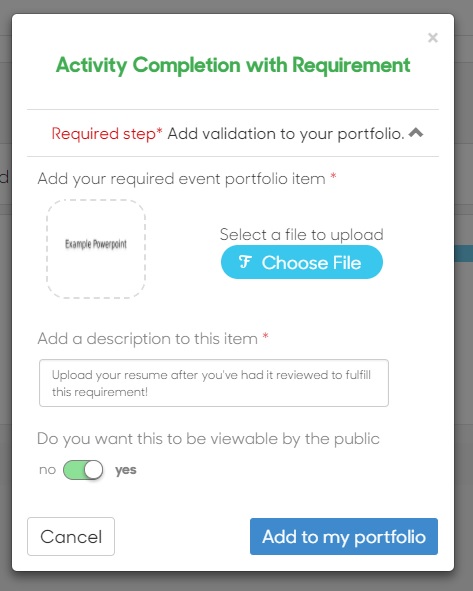 3. To view all of your submissions, visit your "Scorecard" on the web app. You will see a section for "Portfolio", this is where all your submissions will be.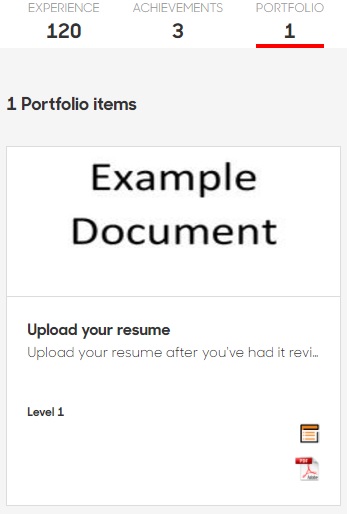 4. To manage your portfolio submissions, go to the "Portfolio" tab on the left-side toolbar. Here you can manage all of your submissions. When you hover over a portfolio item, you will see options for delete

, edit
, and download

.
5. In the "Edit" window, you can change out the portfolio item, title, and description. Additionally, you can update the privacy settings for that particular item. Toggle the slider depending on whether or not you would like the portfolio item to be viewable by the public.
6. Once you have previewed your edits, make sure to press the "Save my edits" button!

Other reminders!
If you experience any difficulty uploading your work, please reach out to us right away through our help chat or our support email (support@suitable.co).