Keep in mind...
Some activities require approval before points are awarded. Review the article, Viewing my Pending Approval Activities on the mobile app, to learn about pending approvals.
If you have the app, make sure you have the most updated version. If not, search Suitable in the app store and download/update for free.
How to complete an activity:
Locate the activity you wish to complete. If you're having trouble finding an activity, try Searching for activities on the mobile app.
Follow the steps below based on the type of activity you would like to complete.
signals a task; signals an event; signals an experience set

Swipe right on a task to complete it. Once you tap the green Complete task button shown below, complete any survey, reflection, and/or submission requirements as directed.
| | | |
| --- | --- | --- |
| Survey | Reflection | Submission |
| Complete all survey questions and then use the arrow in the bottom right to submit | Enter your reflection into the provided area and hit Complete task at the bottom of the screen to submit | Enter a description of your submission into the provided area. Tap the Choose file button to upload a submission from Facebook, Google Drive, Dropbox, Instagram, or your device. If you prefer to upload a link to a website instead, tap text below the Choose file button and enter the URL into the text area that appears. |
| | | |

Some events require the scanning of a QR code. Swipe right on an Event and click Scan QR to complete. This will open your camera to scan the code.


An experience set depends on the activities within for completion. Tap on the experience set to view required, optional, and completed activities. Review the article, Viewing experience set requirements on the mobile app, to learn more.
To Undo an Activity:
Swipe right on a completed/pending approval activity to Undo Completion: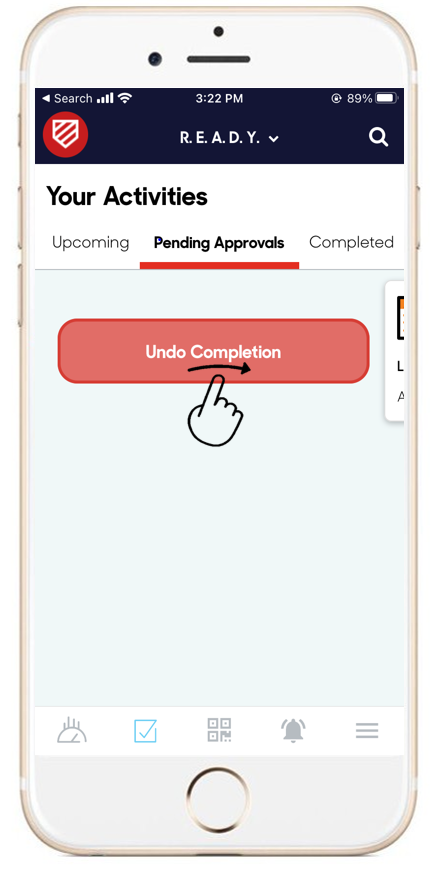 If you have additional questions, chat with us below or send us an email at support@suitable.co.